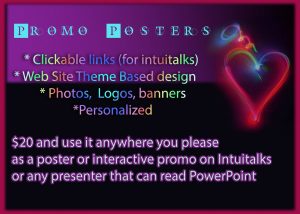 These posters come into their own on any site as a way to offer an instantly identifiable brand. Like an Electronic business card but with far ranging potential.
The design will always be styled to best reflect you, your show or your products and services. If you are a show host or if you are a regular guest these are instant uploads to ensure that you are represented in the best possible way. They can easily be aligned with web site themes and colours for instant recognizability which possibly makes this the cheapest branding option around.
Any platform (Intuitalks or Wiziq) that uses a presenter will accept a Powerpoint file can include clickable links, that is to say, even after the show or class has finished you will still have a live active link to your web site, products and services.  You get two picture formats, one can be used simply as a JPG/Png for other sites too (no clickable links).
Having a specific show poster helps others recognize your show at a glance and can be the difference between grabbing an audience and having them wander on by, here are a few examples of my own show posters.
dropromo posters done for shows and professionals as guests, drop me a line or just hit the pay button and we can connect to discuss your preferences Get a Promo Post
(please note, these are a lighter and smaller version of show posters and banners which are designed for maximum effect rather than in show promotion) you can customize your site, banner and other larger projects by checking out show customization on intuitalks.
Ads: