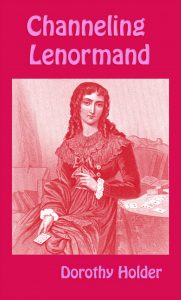 My tarot journey has been both exciting and a major learning curve. In particular I love the history and early origins of the cards. Mme Lenormand however, captured my fancy as the earliest known successful taroist, reading for the landed gentry and earning a tidy fortune in her own life time. Long before Arthur Waite developed his publicly acclaimed set, Mme Lenormand was a legend in France using her own pictorial deck alongside a pack of playing cards. Once she died there was a rush to create sets based on hers, combining the two. I love this deck and enjoy using them immensely, give them a go, they are a completely different style of reading to the usual tarot and oracle decks around, this and having hosted shows highlighting Lenormands cards I have published a little book to make reading a layout easier, (Channeling Lenormand).
Particularly they are fun for the reader who loves a puzzle and finding patterns within a large spread, as there is always a key card (significator) it is easy to see the relationship of the cards to the questor and not just to other cards which adds some spice to a reading. The distance of a card to the key card can offer a great glimpse into timing of events or completely negate a cards influence, there is no real end to the ability of a good reader to pull out accurate and precise information with a standard layout.
The standard layout is 36 cards with four rows of eight and one row of four. dealing the cards face up, not reading at all until all the cards are laid out. First thing you will locate your key card, (the woman card if you are female and the man card if you are male) this is where all readings begin, working outward and directionally from there or in relation to their position. Depending on the key card position you may need to read, upwards, right and left and downward.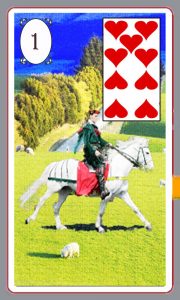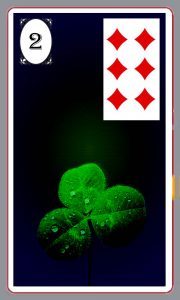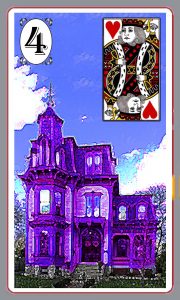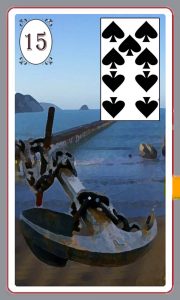 Cards that can create a direct line to the key card but at an angle tend to show things that come out of the blue or at odds with expectations. A vertical or horizontal line can indicate a series of events or a direction describing the journey, this is one of the most amazing aspects of reading Lenormand cards. Cards that may seem irrelevant can, by their content, give clues to seasons while no particular card represents that. For example mice are prevalent over winter months, and if they scythe card is in a harmless position or surrounded by cards that negate it, hay is cut in early to high summer ideally. If a card is on the outskirts of the spread and oblique to the key card, you can expect a month or two between your current position and where you end up, if challenges are predicted then time is great news as it gives you time to take action and make a difference for your future.
I am currently working on a new lenormand deck but you can buy them on amazon or at the book depository online. There are a number of sets out there and of course if you get a set without playing cards inserted you can use them yourself very well. If you have any questions about Lenormand reading or decks, pop them into the comments section of the post and I will get back to you.
Sponsored Ad: