Date/Time
Date(s) - 10/10/2017
10:00 pm - 11:00 pm ET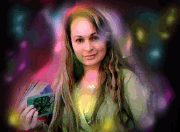 Grab yourself an Aura Reading live on air just for showing up, or pop a 'read my aura' comment to have an aura picture done for the show. ( just send me a photo from the chest up with plenty of room above the head). A fun and fast paced show highlighting the energy that surrounds you while also revealing your hidden aspects to others.
Category(ies)
Recent Listeners
energytherapies
garnetv
iris
teri
ann-iva
amy-cavanaugh
toni5
aka11